So you have decided to tie the knot with your better half? Congratulations! If you are planning a smaller wedding with only your closest friends and family, then this is the article for you. We are going to share some great small wedding ideas in Sydney, with a host of our favourite small wedding venues, and some awesome entertainment ideas to boot. This should give you plenty of inspiration when planning your dream wedding in Sydney.
Planning a wedding is expensive enough as it is without having to invite every man and his dog to come and watch you make your vows. Thus, a smaller wedding is a much more attractive option to some people, particularly if you want to keep it calm and casual. In any case, it's a great way to save yourself a lot of money as well. Hell, save it for the honeymoon, right?
In any case, here are some great wedding ideas Sydney residents can get behind…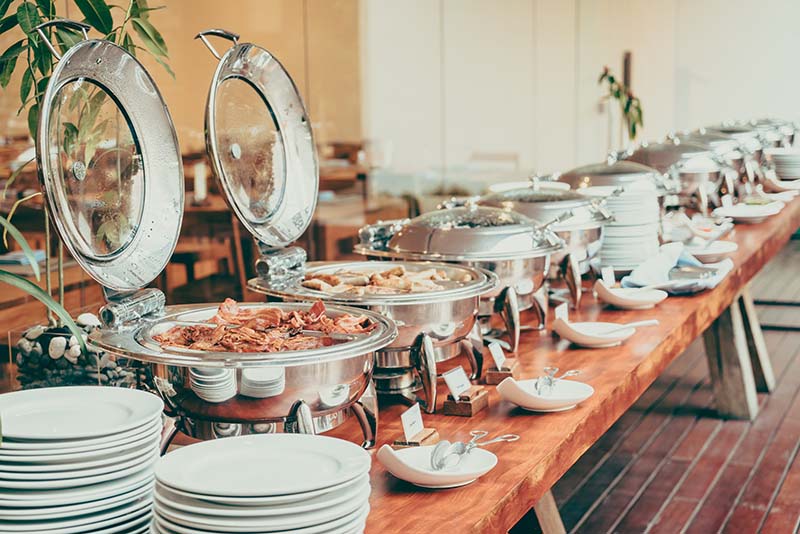 Small Wedding Ideas Sydney
The exciting thing about planning a small wedding, is you have a lot more flexibility in terms of creating a theme. Trying to coordinate hundreds of guests is difficult, but a smaller core group of friends and family isn't all that bad. Here are some fun small wedding ideas Sydney residents will love:
Keep the bridal party tight with a few best friends and close family members
An easy standing room ceremony is a great idea for keeping it short and sweet
Another great idea is having your friends and family sitting around in a circle with you and your better half in the centre as you tie the knot
A smaller wedding means a great opportunity to squeeze everyone into one awesome wedding photo
With less people, dining can be done as a large family style with all of your friends and family on one long table
Open mic night (let everyone have a go at saying a few words – it's a lot of fun and you never know what wonderful tidbits will be revealed)
BYOB – have everyone bring their own booze and skip the pricey bar tab
Consider a food truck for your dinner service! Casual and fun!
When the guest list is smaller you can go more lavish on the food side of things if you wish!
Or in the same breath, you can keep it casual
Plenty of lawn games, board games, and other interactive stations
Set up a cozy lounge area so guests can kick their feet up
Consider a fire pit to create a beautiful ambiance in the evening for friends and family members to gather around
Keep the party going at a local bar for a lock in (if you are lucky)
These are just a few ideas to get the inspiration flowing! How you decide to host your wedding is entirely up to you. First things first, you should probably settle on a wonderful location to host this special occasion!

Small Wedding Catering Ideas In Sydney
If you are looking for some wedding catering ideas in Sydney, this list should help get you started:
Hire a food truck
Lay out a lavish buffet
Go for snack food
Order pizza!
A breezy BBQ
A 3-course sit down meal
Better yet, hire the best wedding caterers in Sydney and be done with it!
Remember, feeding your guests is arguably the most important aspect of planning your wedding. Even though there are fewer quests attending, it doesn't mean that you can skimp on the grub. You can keep it low key and casual if you like. Just have fun and make sure that there is plenty to keep your beloved guests fat and full.
Sydney Locations For Your Small Wedding
Sydney is a beautiful city, chock-full of amazing venues and locations. Here are 10 of our most favourite venues for smaller weddings with links to the relevant websites. There you'll find plenty of information on each. Check them out at your leisure and see if any take your fancy:

Small Wedding Entertainment Ideas For Sydney
Of course, just because you are planning a small wedding, it doesn't mean that you should skimp on the entertainment. In fact, having a more intimate event is a great opportunity to hire some amazing wedding entertainment. Here are some small wedding entertainment ideas for you:
Hire a local band: There is a lot of local talent in Sydney. Many bands will play their own original music if you like, but there are also tonnes of cover bands as well!
Hire a specific genre band (i.e., a jazz or folk band)
Hire a DJ: There are many decent DJ's in Sydney that play weddings, decorating time and space with the golden oldies or modern music (or a mixture of both if you wish)
Comedian: A standup comedian for an intimate wedding gig might be a lot of fun!
Magician: It might sound a bit daft and better suited to a children's birthday party, but a magician can be a lot of fun and add a whimsical vibe to your special day
Bounce house: This is particularly fun if you have children attending the wedding. Or better yet, have an adults only bounce house! It's your wedding!
Photo booth: A fun photo booth with plenty of props
Karaoke: Tie this in with a DJ and you've got hours of fun after the ceremony and dinner is done!
There are countless things that you can do in Sydney for small wedding entertainment. Hopefully this handy list has sparked your imagination!
Conclusion
There is plenty of information here to help get you started with planning your small wedding in Sydney. If you are struggling, you can always hire a reputable company like Dining Abode to help with the catering aspect.