Port Douglas is arguably one of the finest tourist destinations in Australia – and maybe even the world. Being home to two world-heritage sites (the Daintree Rainforest and Great Barrier Reef) will earn you such a sterling reputation, that's for sure. 
But, aside from the two world-heritage sites, Port Douglas has a wide variety of other tourist attractions that draw people from all over the world each year. Up until a short while ago, the Bally Hooley steam trains were one of them. What are they and why were they discontinued? 
A Brief History of the Bally Hooley Steam Trains 
The beloved Bally Hooley steam trains were a part of the Douglas Shire since 1897 and were used to transport sugar cane from the Mossman Mill to the lighters (which were a type of barge) that would then ferry them from Port Douglas onto the next stage of the supply chain, Cairns. 
As the roads were all but non-existent at the time, the tramway become the primary source of transportation for people moving from Mowbray Valley to North Mossman in 1900. 
Some 35 years later the trains were rarely used as the sugar was transported by road to Cairns and the population of Port Douglas dwindled. 
Then, from 1960, over the next 20 years, Port Douglas was rediscovered by a mix of artists, adventurers, and entrepreneurs. By the 80s, Port Douglas was fast becoming a popular tourist spot attracting people all over the world and the Bally Hooley steam trains took on a new lease of life. 
The Bally Hooley steam trains had a freshly laid track to traverse and it was used as a passenger service taking tourists from Port Douglas to the mill so that they could tour a working sugar mill in action. 
Over time, the service was reduced and underwent some financial difficulty – particularly in recent years during the COVID-19 pandemic. 
Being unable to operate for 18 months during the pandemic, the trains were shut down, restored, and maintained at their depot. It was during this time that a new vision emerged…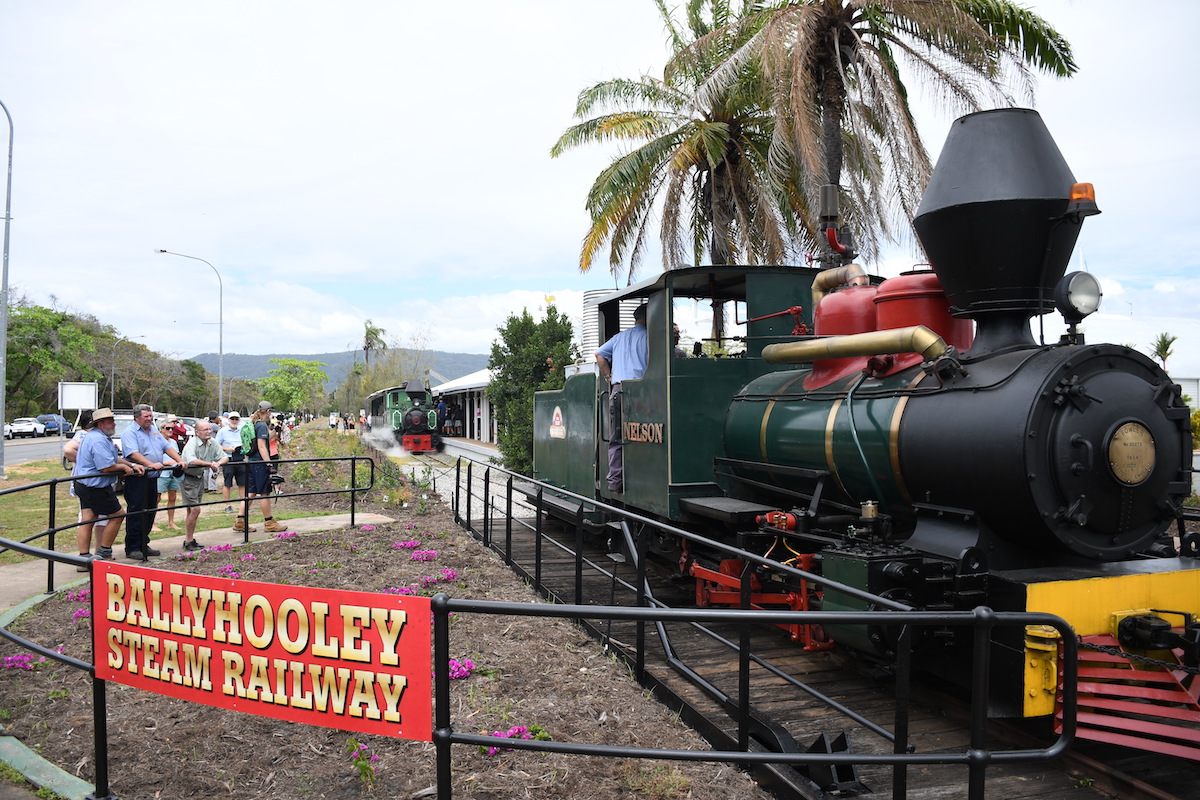 An end of an era 
While it was no longer viable to keep the two trains running (Nelson and Speedy as they are affectionately referred to), the John Morris family (who purchased the Mossman Mill back in 2002), thought up a way that could keep the Bally Hooley steam trains very much a part of Port Douglas history and culture without having to say goodbye for good. 
And so the trains made their final run in September of 2021 where they arrived at their final home: The Bally Hooley Marina Station in Crystalbook Marina. 
Both engines were restored to their former glory based on a number of photographs taken back in 1900. It is here where they will permanently remain, where tourists can visit, dine, and marvel at their colourful history. 
It was no longer financially viable to keep them running, but this was the best way that they could remain a part of Port Douglas as a brand-new monument (and tourist attraction)!
Private transfers and airport shuttle services: the future of transportation in Cairns and Port Douglas 
Unfortunately, as quaint and charming as travel by steam train is, it is no longer viable in the world of today. It's hard to compete when private transport and airport shuttle services are available at such competitive prices – and indeed make getting around Port Douglas so much faster! 
Not only that, but taking a quick, air-conditioned and private transfer to the Daintree Rainforest is far more attractive to most people than sitting on a steam train and slowly making their way to a sugarcane mill. The modern tourist has changed and they want to experience as much of Port Douglas as they can – as efficiently as possible. 
What is the best way to get to Port Douglas from Cairns Airport? 
If you are thinking about visiting Port Douglas and want to know what the best way to get there from the airport is, then there are a number of options available to you. 
In any case, the best option is, by far, to take a shuttle bus from Cairns to Port Douglas. Whether you want to hire a private transfer of your own, or if you don't mind sharing a luxury, air-conditioned bus, there's plenty for you to choose from. 
What is the best way to get around Port Douglas? 
When you arrive in Port Douglas you are going to find yourself seemingly overwhelmed with so many amazing things to see and do. So, what's the best way to get around when you arrive? 
Again, there are many different options available to you. While public transport in Port Douglas is lacking, there are many transportation services that you can use. 
Most excursions have transportation included. So, if you want to visit the Mossman gorge, visit the Daintree Rainforest, or explore the Great Barrier Reef, you'll likely be able to arrange hotel pick-ups with your respective excursion company. 
Alternatively, you do have the option to hire a rental car for the duration of your stay. That way, you will be in charge of your transportation and will have a little more freedom to come and go as you please. While this is certainly the more expensive option, it does offer a certain flexibility that shared transport on excursions does not. You just need to weigh up your options and pick a method of transportation that suits your needs and budgetary requirements. 
Conclusion 
While it is always sad to say goodbye to such iconic transportation methods as the beloved Bally Hooley steam trains Nelson and Speedy, the fact that they have been restored to their former glory and serve as a monument in Port Douglas is wonderful. 
After a long life of tireless work, they can finally settle down and be the centre of attention for tourists looking to learn about Port Douglas and its vibrant history. 
The good news is that you can make your way to Port Douglas and see the old trains yourself, via cool, luxury, air-conditioned vehicles.